This may sound familiar to you: you lock yourself in your room because you want to start a writing session and, suddenly, everyone at home interrupts you by knocking on the door. Then, as if by magic, your room looks like the stateroom scene from the Marx Brothers' film A Night at the Opera.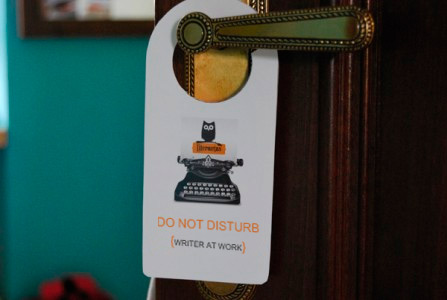 Luckily, nowadays I don't have that problem, at least not that often. But, when I lived in a crowded house, that situation was very typical. This is why I have decided to create a printable gift you can use at home. It's as simple as a "do not disturb" hanger as the one in the photograph above; apart from being useful for preventing people from bothering you, it has another great advantage:
It's surprising how well it works to hang a sign with the word "writer" on your door. When you do it, you start convincing yourself that you are a writer and you take your craft more seriously. Behaving like a pro is essential, as you'll probably remember from the post on the 11 rules to becoming a professional writer.
Now let's go on with the "recipe" to make your own "Do not disturb: Writer at work" hanger.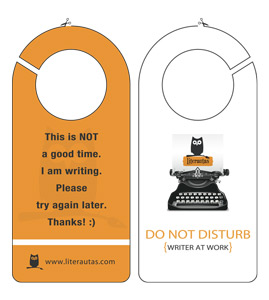 [NOTE]: The required ability in handicrafts is really small. I, who missed the Sesame Street episode on how to use scissors and glue, have been able to create the hanger that appears in the pictures above. The result isn't that bad, is it?
Ingredients
1. Paper-sized cardboard or photo paper
2. Printer (and ink, of course)
3. Scissors
4. Glue stick
5. Printable file of the hanger you can download here below:
DOWNLOAD: Hanger Do Not Disturb. Writer at Work.
Instructions
1. Print the file on a cardboard or photo paper sheet. I chose photo paper because I wanted the hanger to shine.
2. Cut the two parts of the hanger by the black line.
3. Rub the glue stick on the back side of the two parts of the hanger.
4. Join them.
5. Hang your artwork on your door every time you start a writing session or give it to a friend who enjoys writing (it can be a funny and original gift, don't you think?).
Well, that's all! It doesn't look too complicated, does it? Do you wanna try?
[UPDATE]. Due to the success of the hanger for writers, our colleagues in the field of translation and interpreting have asked us to make specific hangers for them, as they apparently suffer from the same problems as us writers. You can download them here:
DOWNLOAD in English and Spanish: Hanger Do Not Disturb. TRANSLATOR at Work
DOWNLOAD in English and Spanish: Hanger Do Not Disturb. INTERPRETER at Work.
Related Posts:
11 rules to becoming a professional writer
Eureka! The keys of the creative process
Omniscient POV (Types of Narrator 2)